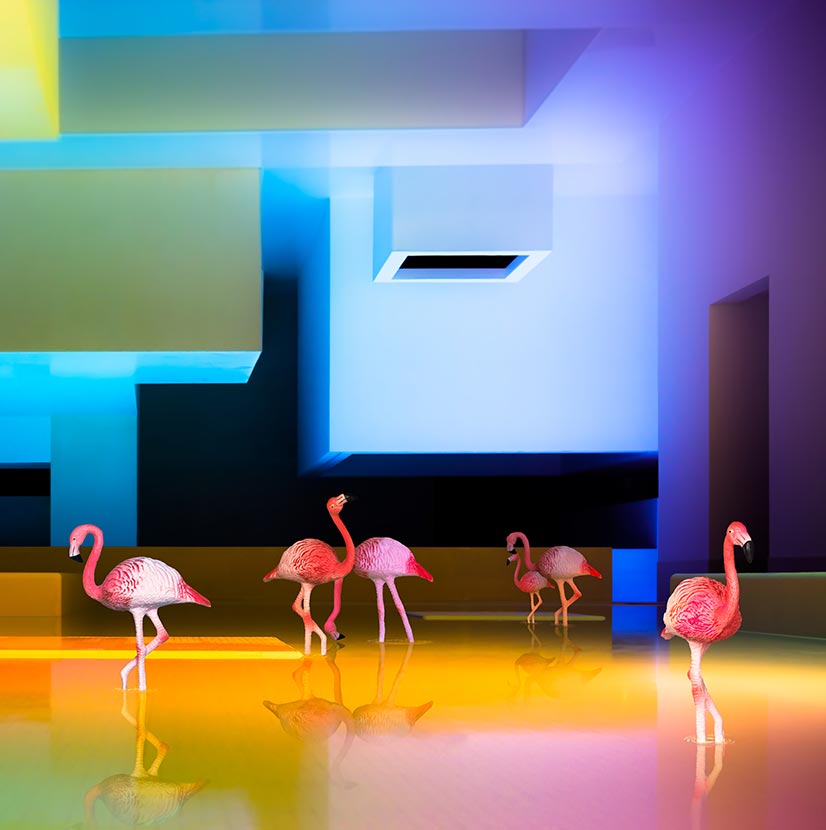 Living at 1000 miles per hour
Born 1969 in Rouen, France. Lives and works between Paris and Los Angeles.
His artistic career began in the 90s when he worked for well-known names in the fashion industry such as Jean Baptiste Mondino, Nick Knight, Antoine Le Grand and Javier Vallhonrat. He has worked on numerous editorials and press kits in the fashion world, such as Virgin and
Bolero (Zurich); as well as for « Opera de Normandie », « Centre Henri Becquerel de Rouen », « L'Oréal Professionnel », « Jbeverhills » and « Alpine », among others.
In 2016, he won the « Monaco Telecom Award » for his series « Fear of a Blue Planet ». He was also awarded a prize at « Paris Photo » for creating a 64-page book, which he did in 3 hours. He also won a medal from the French Senate in 1991.
After his breakthrough in the fashion world, he had his first exhibition « The Age of Time » in 2008.
Between 2014 and 2016, he produced « Fear of a Blue Planet », a series of 19 photographs to raise awareness about endangered animals. The series was created in « Le Havre », in the incredible swimming pool « Les bains des Docks », by the French architect « Jean Nouvel ». This series highlights his ability to mix modernity and technicality.
« I started by photographing the structure day and night to capture the most beautiful lighting created by natural or artificial light. Very quickly, the place evoked emotions that I tried to transcribe through the association of photographing and the technique of photomontage. I used the images of the place as support for the staging of the endangered animals.
Extinction, a subject I am particularly sensitive to. I intentionally used these animals in the form of figurines to warn of the danger of imminent disappearance. I wanted to offer them a last refuge through this work. »- Eric Peltier
« West World » is a photographic journey made between 2014 and 2018 in Normandy and California. This series moves between land and sea, a bridge between past and present.
« Science is not Fiction » is another series created around the world of seventh art heroes. Heroes who accompany our daily lives. A look at an invented life that takes us away from reality – but at the same time is a reminder of that reality. A rainbow of colours that mix and merge in the artist's eye. This series was produced over a period of more than 10 years between London, Los Angeles and various parts of France.
« Éloge de la fuite », another stunning series highlighting the power of nature where extremes collide daily. These images were produced in 2018 in « Death Valley » and exhibited at the Rouen Opera House.
« Faces of Freedom » are portraits from the 21st century. They reveal the hope and sacrifice of an entire generation called up to liberate France during World War 2. Their frank, sometimes sinister expression reminds us of the courage of these people. This work was commissioned by the city of Rouen and was created between 2018 and 2019.
His most recent series, entitled "Another time, another place", was created in Nice and is part of a solo exhibition of the artist's work at Galerie DZ in Nice in the summer of 2021, the same year he will exhibit in Rouen, France, as part of the Edelwine Showroom collection.
In an interview with Valerie Duclos for Femina Hebdo, Eric said, "The pictures I prefer are the ones I could never make again. It would be sacrilege to think that we are able to do exactly the same thing twice".
Eric's commitment to the environment is remarkable. His mastery of all technical aspects and his ability to play with contrasts reveal a pure nature that invites us to reflect. He is passionate about photography and the subjects he tackles. He captures light in incredible ways, both in colour and black and white.
Peltier claims his greatest weakness is impatience, but it is precisely this character « living at
1000 miles per hour » that is his great strength.