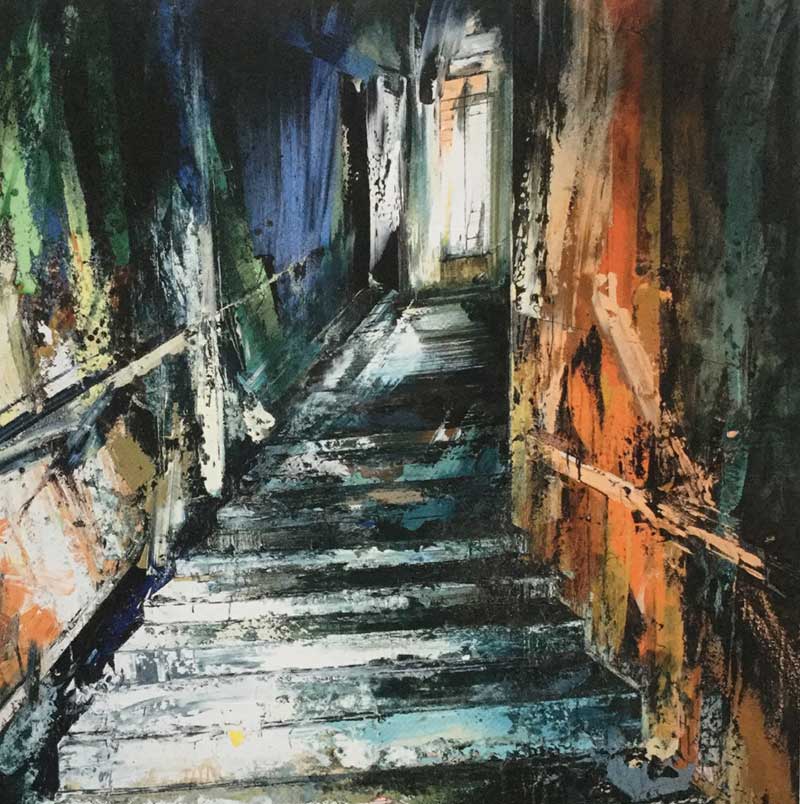 Born in Manchester in 1954, lives and works in London and in France (St Riquier).
He studied at Royal College of Art in the UK and at the Liverpool College of Art. He is a guest lecturer at several relevant institutions in the UK. He has exhibited in London, Lisbon and New York among other cities. His work forms part of collections such as: the Metropolitan Museum of Art in NY, The Victoria and Albert Museum in London, The British Institute in Madrid and the Santa Barbara Museum in California among others.
John Monks has been described as one of the most important living artists in Britain today. One of the most inspired figurative painters of his generation. The late William Lieberman, said:
"Monks is a figurative painter, not a realist. His painting is neither fashionable nor facile. Like Picasso at his best, it has guts. His brushwork is bold, even expressionistic, and the visual result speaks with eloquence."
Monks' work is strongly influenced by the atmosphere of the architectural spaces he chooses to work in. Monks manages to take the aura of the space and explain it in his paintings.
These are not simple still lifes. Monks is particularly skilled at transcribing with his brush the reflections of light that caress his canvases. Real life seems to emerge.
A second aspect of his work is the landscapes. You are directly carried away by the atmosphere of a path through a small grove or the edge of a river. You think you can feel the humidity rising from a field at daybreak.
Both, his studio in London as well as his charming chateau in Northern France have been refurbished and adapted for the artist's needs.
John Monks is fascinated by the transformation of colour into form and texture on the canvas, his layers of paint (oil painting) add a particular depth to his paintings that bring the observer into his work and sense the light. Monks's paintings are aesthetically pleasing but equally daunting, a sense of mystery infiltrates the senses of the viewer. (it's almost like he can show to the spectator what has been there before)
Monks is a master of light and shadow; his painting are truly mesmerizing and will remain in the back of your head for long.