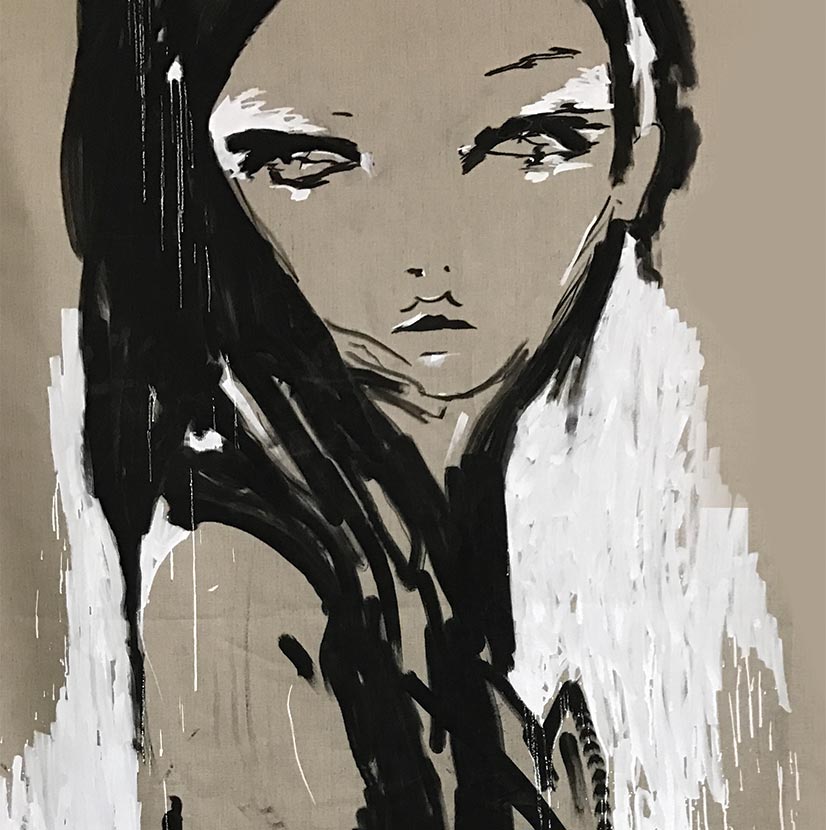 Faces
Born in Beirut, Lebanon, Lucie Abdalian experienced the horrors of war from the cradle, with bombs falling on her family home. After the attempted assassination of her father, Zaven Abdalian, her family chose exile in Canada. Lucie was 4 years old. At the Armenian school in Montreal where she attended, French, English and Armenian were spoken.
After studying music at the Mac Gill University Conservatory in Montreal, Lucie continued her piano training in California at Santa Clarita University. But she already knew that the music she worked on all day long did not correspond to her aspirations. Touched by a painting by Goya, a portrait of a woman, she dreamed of painting and drawing. So she stopped her musical studies and started drawing. She hung her first works all over her house. When he saw them, a friend advised her to enter an art contest in San Francisco. She listened to him and worked hard for the competition, which she won with flying colours.From now on, she will be able to give free rein to her artistic talents…
She feels she has a lot to express.
Despite her ignorance of the Armenian genocide, she feels the weight of a heavy family secret very early on. She would later learn that her grandmother, this angry woman, with whom she was unable to form bonds of affection, was hiding an intimate drama.
Today, Lucie Abdalian has become a complete artist who divides her life between New York and California. But it is above all in Armenia, her homeland, that she regularly comes to recharge her batteries. To find the calm, the inspiration and the serenity that are necessary to create. As a tribute to the country she loves so much, she has had an Aramaic cross tattooed on her collarbone.
Far from the ups and downs of her childhood, Lucie has rebuilt her life around art. Passionate and curious, she translates her emotions into many media and uses plastic arts, painting, photography and video. We can recognize her melancholic teenage faces from afar… And when Lucie paints the people she meets, it's as if she takes on their soul. Through their eyes and their particular expression, Lucie Abdalian transmits all their humanity to us.