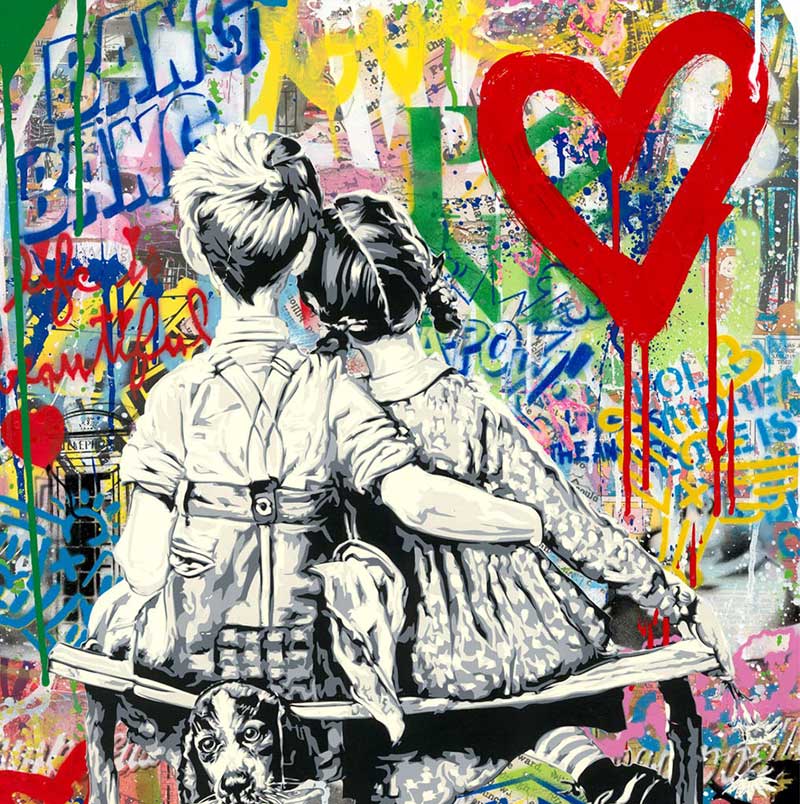 The French street artist Mr. Brainwash achieved his breakthrough around 15 years ago when he made a documentary film about his cousin, the graffiti artist Invader. During the filming, he got to know Banksy personally. Together they produced the documentary film about the street art scene Exit Through The Gift Shop, which was nominated for an Oscar in 2011 – and suddenly the whole world knew Thierry Guetta, who works under the artist alias Mr Brainwash.
The artist interweaves elements from pop and street art of the last decades in his works. He stages exhibitions in maxi formats with subversive undertones, each lush, bold and orchestrated with a socio-political undertone. For his work, the Frenchman is revered by his fans, by the feuilleton and by the art scene. Mr. Brainwash's works and productions cause a sensation; his sculptures and paintings on paper, canvas, metal or wood are sought after. Mr. Brainwash has co-designed record covers for Madonna, Rick Ross and Kygo. He co-designed a pictorial with world footballer Pelé, and his art can be seen in TV series or films such as Molly's Game, Billions, Shameless or The Kardashians.
Mr. Brainwash has already held an audience with Pope Francis in Rome and was invited for a collabartion by the former US First Lady, Michelle Obama, for the artwork of her foundation « Let Girls Learn ». He is represented at Art Basel every year and also teaches at two prestigious universities, UCLA (University of California, Los Angeles) and Columbia University in New York. He is currently working intensively on a project to create and curate a pop-up exhibition space for visionary street art at The Paley Center for Media in Beverly Hills.