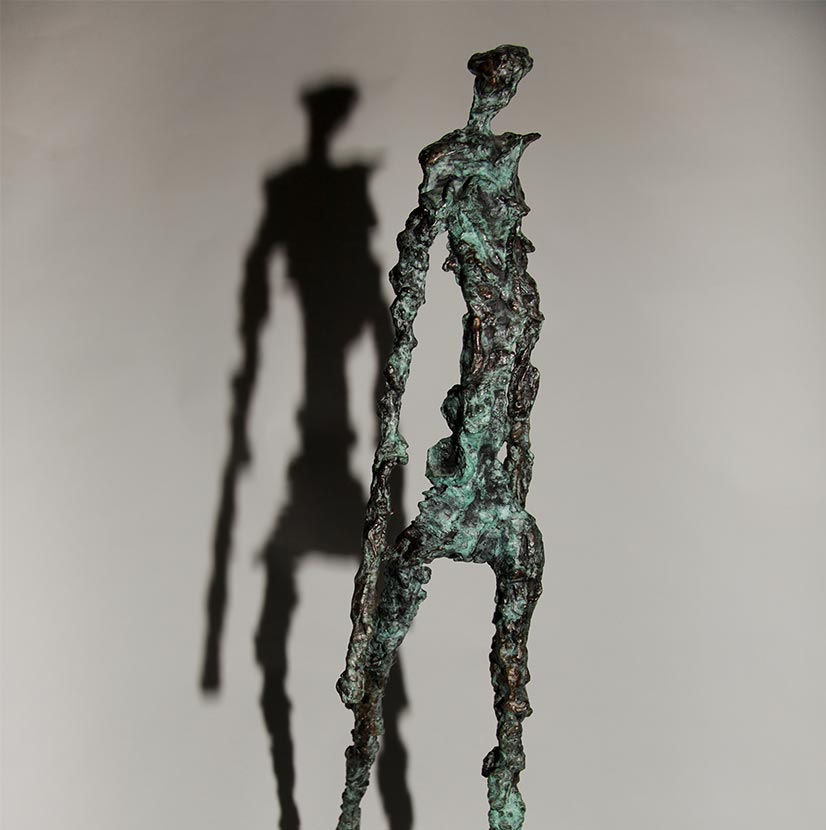 It was in the middle of a dream garden that we met our first  « Walker » from Stéphane Le Meur. It was his proud head, on the edge of this rural meadow from which he penetrated with a celestial step this garden not far from a ruined castle.
Stéphane Le Meur is a « multi-faceted » artist.
He first found his way in stained glass windows, especially in churches. He is fascinated by the transparency of glass, its colours pierced by light.
Then his love for nature led him to live a strong experience in Normandy, in Gerberoy over 10 years, where he lived in total communion with his horses, nature and where he began his first works on gardens. The establishment of a universe of his own. To appropriate and structure a garden, without compromising nature, and to give free access to everyone, to offer art to everyone, to make people feel and breathe its emotions and to offer the vibration to those who let themselves be approached.
Naturally he arrived at sculpture. The integration of his sculptures in his dream gardens. Angels, walkers, somewhat celestial men (or women).
And then he went even further in his work, to bring his creations into our homes.
Stringy, twisted figures, fairies hidden in flower petals, women with hats, Stéphane Le Meur transmits a strong emotion with each of his characters.
He is currently concentrating entirely on sculpture, always for the exterior, but also for our interiors. The bronze material, a patina worked with great subtlety, underlines the strong and eternal presence of his works.